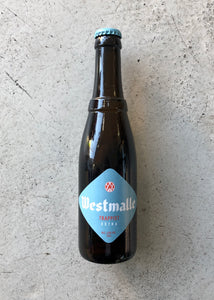 Patersbier, sold commercially for the first time in 2021.
Westmalle Extra is the beer provided to the monks of the Abbey of our Lady of the Holy Heart for consumption with their meals. A top fermented 4.8% golden ale designed to be thirst-quenching, full of fruity aromas, and full bodied. Brewed only with whole cone noble hops and, unlike the Tripel and Dubbel, without any brewing sugar additions. Extra is bottled unpasteurised, and is re-fermented in the bottle too, to preserve the richness of all its component parts, and allow some evolution in the bottle.
This beer was previously exclusively for the monks, with lucky guests of the abbey occasionally being offered a glass, or on occasion small amounts were released for local sale.